Cultural Desk : dhakamirror.com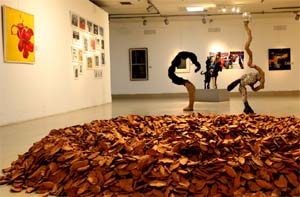 The 5th National Fine Arts Exhibition-2023 is ongoing under the management of the fine arts department organised by Shilpakala Academy.
The opening ceremony of the 25th National Fine Arts Exhibition was held on May 28th. The exhibition in which artists from all over the country have participated is coming to a close on July 15.
The exhibitions in gallery 1-7 of the National Gallery of the Shilpakala Academy are open from 11 am to 8 pm daily. On Fridays the gallery is open to the public from 3 pm to 8 pm.
This exhibition allows the unique opportunity for artists to display their works at various stages. This exhibition is going on in the 7 galleries of the National Art Gallery of Bangladesh Shilpakala Academy.
The 25th National Art Exhibition 2023 showcased the art of Bangladeshi artists above the age of 21 to display their creative prowess and be allotted the proper recognition. Among these, 96 paintings, 39 prints, 22 photographs, 60 sculptures, 4 indigenous artworks, 6 potteris, 10 crafts, 7 graphic designs, 38 installations, 11 new media art and 3 performance arts were selected.
Of these, 11 of the best in each medium are given awards. Notably awardees on each medium are given a cash prize of 1 lakh taka. Gold medal winners are given a cash prize of 2 lakh taka, crests and certificates. 5 honorary awards are also presented with prizes of 50 thousand taka each, accompanied by a sponsorship prize.