Entertainment Desk : dhakamirror.com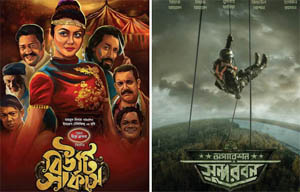 The movies will be released in Australia in the third week after "Operation Sundarbans" and "Beauty Circus" hit theaters.
Operation Sundarbans by Dipankar Dipan will have its Sydney debut on October 7 and Beauty Circus will premiere in select theaters in Sydney, Melbourne, Adelaide, Perth, Brisbane, and Canberra on October 9.
The plot of Operation Sundarbans centers on Rapid Action Batallion's (RAB) attempt to put an end to the Sundarbans pirates, and is inspired by actual events. Siam Ahmed, Riaz Ahmed, Nusraat Faria, Shatabdi Wadud, and more actors appear in the movie.
Jaya Ahsan, Ferdous, ABM Sumon, and Taukeer Ahmed are the stars of Beauty Circus. The story centers on Bengal's circus industry and portrays the suffering of women who work in the circus.
In Bangladesh, both movies have garnered positive reviews. It remains to be seen how the Australian population will react to the films.