Entertainment Desk : dhakamirror.com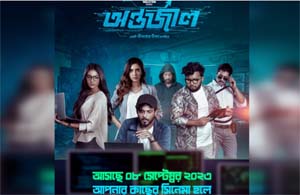 Director Dipankar Dipon's highly anticipated cyber-thriller Antarjal finally hits theaters on September 8, 2023.
Although the film was supposed to be released on this Eid-ul-Adha, the censorship board stopped the release.
Confirming the news to media, Dipon said, Please visit the cinemas on September 8th to see Antarjal. Make September the month of Antarjal, Bangladesh's first cyber thriller.
"We eagerly await your feedback and your love for this film, which has been our long-cherished desire," he added.
Earlier in June the trailer of the film was released.
In the trailer, a masked hacker was seen trying to create unrest in the country and cyber security officers trying to get to the end of the chaos.
The film features Siam Ahmed, Bidya Sinha Mim, ABM Sumon, and Sunerah Binte Kamal in the central roles.