We mourn for all of you. She was a great lady, says President Biden after writing in condolence book
News Desk : dhakamirror.com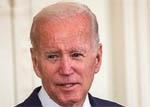 US President Joe Biden and First Lady Jill Biden paid a visit to the British Embassy in Washington, DC, to mark the death of Queen Elizabeth II on Thursday.
Biden and the first lady were greeted by British Ambassador Dame Karen Pierce and her husband at around 6 pm eastern time (2300GMT).
With notes from his jacket pocket, the President wrote in the book of condolences
"We mourn for all of you. She was a great lady, I'm so delighted I got to meet her," he said, and also thanked the embassy staff.
"Our hearts are with you," said the first lady.
Elizabeth II, 96, was the longest-serving monarch in British history. Buckingham Palace said she "died peacefully" at Balmoral Castle in Scotland.
King Charles III, her eldest son and successor, and Camilla, the queen consort, "will remain at Balmoral this evening and will return to London tomorrow," it added.
The queen had mobility and health issues for the past year stemming from age. She had to cancel several engagements due to her health and her physician's advice.
Her final public appearance was during the Platinum Jubilee celebration in June, marking her 70 years on the British throne. A statement issued mid-day Thursday said the queen was placed under "medical supervision" at Balmoral in Aberdeenshire, Scotland.