Cultural Desk : dhakamirror.com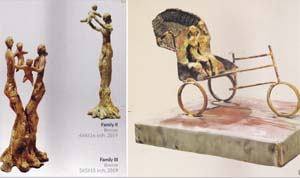 In her sculptures and watercolor paintings on display in her solo art exhibition at the Abinta Gallery of Fine Arts in Badda in the capital, artist Sigma Haque Angkan has portrayed womanhood, motherhood, and nature.
She has displayed 40 sculptures and 22 watercolour paintings in the two-week exhibition titled Glory of Women, which has been organised by Abinta Gallery of Fine Arts and curated by Sultan M Mineuddin.
The principal subject of her sculpture is womanhood.
Sigma Haque Angkan has addressed problems faced by women, bond between mother and child, women's stories of triumph and others through sculptures and paintings.
The sculptures have been displayed under different series, namely Family, Urban Life, Bird's Family, Freedom, Mother's Kingdom, Responsibilities and Mask.
Among the displayed artworks, sculptures depicting womanhood and women's role in family have been displayed under the series titled Family.
Sculptures depicting rickshaws and streets of Dhaka have been displayed under the series titled Urban Life while the series titled Freedom showcases experimental works created by the artist.
The sculpture series titled Mother's Kingdom depicts relationship between mother and children while the series titled Mask consists of six men's masks representing different emotions.
Besides, a number of watercolour paintings showcasing nature, landscapes, flowers and life in Old Dhaka have been displayed in the exhibition.
The exhibition, which was inaugurated on February 25, will end today.