Cultural Desk : dhakamirror.com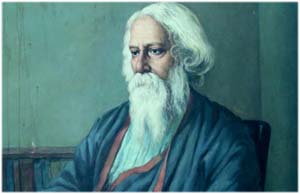 Today is the 162nd birth anniversary of Nobel laureate Rabindranath Tagore, one of history's most revered poets and writers, towering above all others in the Bangla canon.
Kabiguru Rabindranath, was born at Jorasanko in Kolkata on 25 Baishakh, 1268 (May 7, 1861).
He became Asia's first Nobel laureate after winning the Nobel Prize in Literature for Gitanjali in 1913.
The government has taken up elaborate programmes to celebrate the birth anniversary of Tagore at national level in a befitting manner.
Nobody had influenced the minds of so many Bengali-speaking people before or after him. His influence has been compared, by many, to William Shakespeare in the English-speaking world.
This year, the main programme will be arranged at Rabindranath's Patisar in Naogaon district, where the Kabiguru had many memories.
Apart from Patisar, in line with the national events, local administrations will arrange different programmes at Shelaidah in Kushtia, Shahjadpur in Sirajganj and Dakkhindihi and Pithavog in Khulna, the places where Rabindranath had memories.
To mark the birth anniversary of the great poet, Rabindra fair, discussions and cultural events will be organised.
Besides, Bangladesh Shilpakala Academy has taken a three-day programme, including cultural functions and exhibition on artworks of Rabindranath.
Bangla Academy will also organise a discussion, marking the 162nd birth anniversary of Tagore.
The youngest of 13 surviving children, Tagore, nicknamed 'Rabi', was born to a Brahma family of Debendranath Tagore and Sarada Devi at Jorasanko in Kolkata.
Rabindranath's novels, short stories, songs, dance-dramas and essays always speak about political and personal life of people.
Sometimes referred to as 'the Bard of Bengal', Tagore's poetic songs were viewed as spiritual and mercurial.
His compositions were chosen by two nations as national anthems: Bangladesh's Amar Sonar Bangla and India's Jana Gana Mana. The Sri Lankan national anthem was inspired by his work.
The legendary poet breathed his last at his paternal residence in Kolkata on Sraban 22 of Bangla year 1348 (August 7, 1941).