Entertainment Desk : dhakamirror.com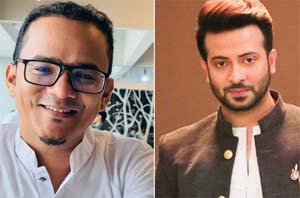 The heroine and villain for Anonno Mamum's upcoming film starring Shakib Khan have been chosen.
The director of the film revealed the news on social media Saturday night,.
"I will let you know the details after Shakib returns to the country. Today, I signed the heroine and villain from Mumbai." his post read.
"The filming will begin on 10 September in India's Benaras. The movie will be released in five languages including Bangla, Hindi, Malayalam, Telugu, and Tamil. The film will have 3 songs and 2 fight sequences," he added.
Earlier, there was a lot of buzz among netizens regarding Shakib Khan's upcoming heroine.
There was speculation that his upcoming co-star for the film might be a Bollywood actress.