Entertainment Desk : dhakamirror.com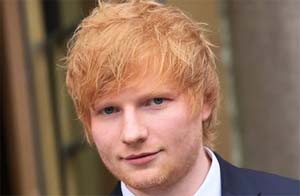 He considers the case to be "insulting" as a singer-songwriter.
Ed Sheeran has said he'll quit music if he loses the copyright infringement trial he's currently facing relating to his 2015 track 'Thinking Out Loud'.
The pop star is currently being sued for allegedly plagiarising parts of Marvin Gaye's classic song 'Let's Get It On' – an accusation which Sheeran denies.
Sheeran was first sued by heirs of Ed Townsend – the co-writer of Gaye's soul hit – back in 2016, with the trial having formally commenced last week.
Just as we saw last year, when Ed Sheeran was involved in another plagiarism trial for his record-setting track 'Shape Of You' (a case he ultimately won), there have been plenty of moments where Sheeran has provided some bold words from the stands.
In the latest round of pronouncements, Sheeran has said there were he to lose this current trial he would quit music altogether, saying, "If that happens, I'm done, I'm stopping."
"I find it really insulting to devote my whole life to being a performer and a songwriter and have someone diminish it," he added.
Whilst not naming anyone specifically, he reportedly spoke in court on Monday about how other singers are "cheering him in on" for standing up against other artists being sued for their song-writing.
Specifically, the allegations of the current trial allege that Sheeran and his co-writer copied the rhythm of 'Let's Get It On', as well as an ascending four-chord sequence.
Last week, lawyers for Townsend played a video to the courtroom which showed a live performance where Sheeran transitions between 'Thinking Out Loud' and 'Let's Get It On', which they argued was tantamount to a confession.
Yet similar to much of his defence for his track 'Shape Of You' last year, against grime artist and songwriter Sami Chokri, Sheeran's response was that many pop songs sound similar – and even briefly played on a guitar behind the stand to demonstrate.
The trial comes as Sheeran gears up to release his new album – ('Subtract') later this week, 5 May, which will be the final instalment in the singer's mathematical album series.
Sheeran has said much of the new album was informed by his wife's tumour during her pregnancy, as well as the death of friend Jamal Edwards and last year's copyright trial.
The trial in Manhattan continues.