Entertainment Desk : dhakamirror.com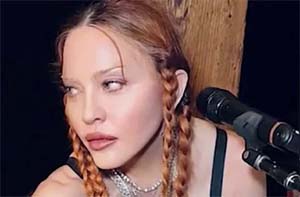 Madonna, the iconic pop sensation, was set to embark on her highly anticipated world tour in just 10 days. However, she is now facing uncertainty about whether to start her Celebration tour. Recent health updates about the songstress' recovery from a severe bacterial infection suggest a challenging road ahead.
According to a source cited by TMZ on Wednesday, July 5th, 2023, the Vogue hitmaker has been feeling "weak and very tired" as she spends most of her time in bed fighting a severe bacterial infection.
Previously, the singer's pal, comedian Rosie O'Donnell told fans via Instagram that the Queen of Pop, 64, is "good" and "recovering at home."
She told one fan that Madonna is "very strong."
Late week, the singer's longtime manager and producer Guy Oseary revealed that the singer had been hospitalised due to a "serious bacterial infection" amid rehearsals for her upcoming Celebration Tour, but is now recovering.
However, according to a music source cited by People Magazine, Madonna "ignored some symptoms of illness for quite a while because she thought they would go away".
The source explained, "She didn't want to take time away from rehearsals. She was rundown and not feeling 100 percent for a while in anticipation of her tour. She is relentless in her quest to be the best, to wow her fans and to do what others before her have not done."
Another sourced added, "Madonna has been very busy for a long time and not taking care of herself. She just continues to push herself beyond the limit."
Madonna was set to kick off her tour in Vancouver on July 15, commemorating the 40-year anniversary of her career. "I am excited to explore as many songs as possible in hopes to give my fans the show they have been waiting for," she said back in January while announcing her tour.
However, in the light of her medical condition, Oseary announced that "all commitments" of the singer are "paused."