Entertainment Desk : dhakamirror.com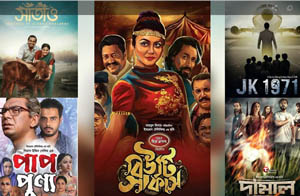 The 24th edition of the Rainbow International Film Festival is going to kick off in London, UK, on May 28 at the Genesis Cinema on Mile End Road, East London. The festival has been organised by the Rainbow Society.
Alongside screening 45 films from different countries across the world, five films from Bangladesh will be shown at the festival. These include: "Beauty Circus", "Saatao", "Damal", "Paap Punyo" and "JK-1971".
The eight-day-long festival will be showcasing films from different countries including Bangladesh, India, Iran, Pakistan, Kazakhstan, and China. On the opening day, the West Bengal film, "Beche Thakar Gaan". will be screened.
The Jaya Ahsan starrer, "Beauty Circus", will be screened on the second day, May 29. Similarly, "Sataao" will be screened on May 30. "Damal" on May 31, "Paap Punyo" on June 3 and "JK 1971" on the final day, at the Kenneth More Theatre in Ilford.
On the final day of the festival on June 4, awards will be presented to films in various categories at the Kenneth More Theatre in Ilford.
Awards will be given in multiple categories including 'Best Picture', 'Best Documentary', 'Best Director', 'Best Critics' Choice Movie' and 'Best Short', to name a few.
Robert Phillips, Jayashree Kabir, Pulak Gupta, Syed Anas Pasha, Zaki Rejoana, Sadek Ahmed Chowdhury, Syed Muqib Ahmed and Nadia Ali are on the jury board for this year's festival.
Apart from the festival,Indian Bengali films "Abhijaan", "Aparajito, "Ballabhpurer Roopkotha", "Byomkesh Hatyamancha", "Karnasubarner Guptodhon" and "The Eken" will also be available online on the website of Rainbow Film Society.
The festival will also host a women-only workshop on 'Women in Film'. In this day-long workshop on June 3, a short film will be produced.
The first edition of the festival was held in London in 2000, under the initiative of Mustafa Kamal, leader of the Rainbow Film Society. Since then, this film festival has taken place every year.