Entertainment Desk : dhakamirror.com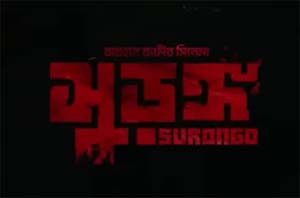 Raihan Rafi's latest Eid film, Shurongo, has continued to wow audiences since its release. Audience response has been overwhelming and Afran Nisho's debut film is on track to set a remarkable new record. Director Raihan Rafi expressed his excitement that Shurongo has reached a significant milestone at Lion cinema.
"The movie surpassed the ticket sales of my previous film, 'Poran,' in just 9 days, a record that took 'Poran' 200 days to achieve. This accomplishment is a testament to the immense support and appreciation from the audience, not only for myself but for the entire "Shurongo" team," he said.
Afran Nisho expressed his joy after hearing the news about the ticket sales at Lion Cinema Hall. He emphasised that the audience is the life of their movie, and he has repeatedly mentioned that "Shurongo" is a film made for the masses, and it is indeed being embraced by the masses.
Tama Mirza also shared her joy and excitement after hearing the outstanding record of ticket sales at Lion Cinemas. She expressed gratitude and enthusiasm for the immense support shown by the audience.