News Desk : dhakamirror.com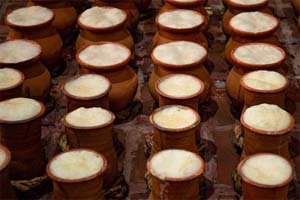 Four more products, including the yogurt of Bogura, and Langra and Ashwina varieties of mango of Chapainawabganj have been recognised as geographical indication (GI) products from Bangladesh.
In addition, the Aman variety of the fragrant Tulshimala rice from Sherpur has also acquired the GI tag, Md Zillur Rahman, deputy registrar (Trade Marks) of the Department of Patents, Designs and Trademarks (DPDT), said.
The department under the industries ministry issued GI certificates to the four products on 25 June.
With this, 15 Bangladeshi products, including Jamdani, Ilish, Muslin, Rajshahi silk, Rangpur's Shatranji, Kataribhog rice of Dinajpur and Fazli mango of Rajshahi and Chapainawabganj, have been recognised as GI products so far.
Bogura, often dubbed as the capital of yogurt, produces an average of 50 tonnes of yogurt per day in around 400 factories of various sizes. Demand for the fermented dairy product doubles during festivals like Eid.
Nurul Bashar Chandan of Asia Sweets, a leading name for yogurt in Bogura at present that produces around 1,000kg of yogurt per day, sees the GI certification as a great opportunity to boost the yogurt market.
"With GI recognition, we will get multifarious benefits in terms of exporting yogurt. But if the yogurt is to be taken to the world market, the cooperation of the government is very much needed," he said.
"The GI recognition has established a distinct identity for Bogura yogurt in the world," said Hasan Ali, chairman of reputed sweets and yogurts manufacturer Akbaria Group.
"Bogura city and Sherpur Upazila together sell at least one lakh pieces of yogurt, worth Tk1 crore, per day. The country can generate more revenue by exporting the product," he added.