News Desk : dhakamirror.com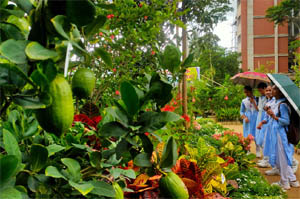 A week-long tree fair and plantation drive, held on Moulvibazar Government High School grounds, concludes today.
The fair, organised by Moulvibazar district administration and the Department of Wildlife Management and Nature Conservation, began on July 27.
Students, among other visitors, got the chance to explore an array of varieties, both local and foreign, that were on display in different stalls at the fair.
Fruit trees got the most attention, as many were seen for the first time by spectators.
"I did not know the names of many fruits displayed here," said Satyabrata Sen Gaurab, a fourth grader at Moulvibazar Govt High School.
"I have never seen a Brunei King mango until now… such a big mango," said Habiba Akhtar Arifa, an eighth grader.
"We brought about 250 varieties of fruits and flowers to the fair, including persimmon, avocado, cherry, palm, and Brunei King mango, as the demand for such exotic varieties is usually high," said Abul Kalam, owner of Kalam Nursery.